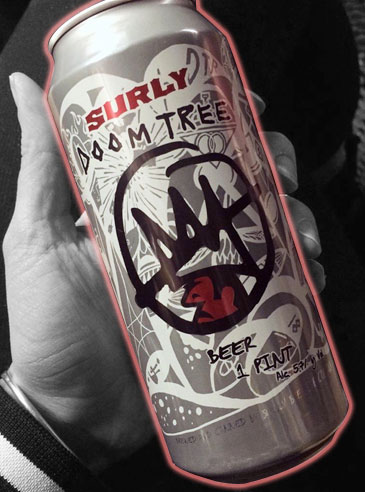 Fans of Surly and/or Doomtree take note: Surly Doomtree cans will be available for the first time in Minnesota later today at The Depot Tavern as part of Doomtree's First Avenue pre-party event. If you were fortunate enough to get your hands on tickets to tonight's sold-out show, you'll also be able to drack open a can of Doomtree at the show.
What's that? You didn't get tickets for the show? You may be in luck, friend – there will also be ticket giveaways for the sold out show at 6pm.
Look for cans around the state starting next week.
Here's the description of the beer, courtesy of Dessa:
Surly started with some homebrewing in a garage. Doomtree started with some noisemaking in a basement. Careful what you do in your spare time in your spare rooms, man. That stuff just might take over your whole life.
A decade later, Doomtree meets Surly. Instant crush. We're both indie and strong-willed. We love Minnesota and we're allergic to focus groups. We don't have a formal professional outfit between us.
We convene at the brewery to scheme. Working in extreme secrecy, we decided to make a beer team Surly suggests, a "bastardized style" that will build on a classic, but buck convention. Doomtree cannot nod vigorously enough. We know this style. Guided by instinct, we came up with this dark gold, toasty, aromatic, subtly spicy, bitter enough, dry-hopped brew. Best enjoyed cold, in a spare room, with new friends.
WHAT: Surly Brewing debuts Surly Doomtree cans
WHERE: The Depot, 17 N. 7th Street, Minneapolis
WHEN:
Wednesday, February 25, 4pm
– close