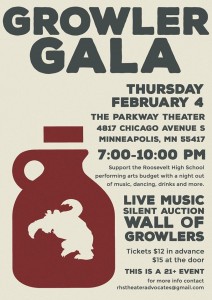 It's been about twenty years since the curtains were last drawn in the theater at Roosevelt High School. Thankfully Rick Spaulding and some of our local breweries have stepped up to help raise funds to revive the program in south Minneapolis.
On Thursday, February 4th the Parkway Theater will host an event from 7 PM until 10 PM where you can dance, mingle, and enjoy some drinks with friends. Pepito's will be there selling food and beverages and there will be both a live, and silent auction where you can bid for growlers donated by the following breweries.
Excelsior Brewing
Fulton Brewery
Harriet Brewing
Town Hall Brewery
Lakes & Legends
Tin Whiskers
Northbound
Surly
Urban Growler
Insight
Dangerous Man
Boom Island
Eastlake
Sisyphus
Fair State
56
Bang
Bauhaus
Bad Weather
Lake Monster
LynLake
Sociable Cider Werks
Tickets will be $12 in advance and $15 at the door. Don't miss your chance to help bring the Roosevelt Theater program back to life.
Details:
Thursday, February 4th from 7 PM until 10 PM.
Parkway Theater
4814 Chicago Avenue South
Minneapolis, MN 55417
Cheers!