Two years ago Surly hired Jorge Guzman as the Executive Chef for their new destination brewery, a position that came with a lot of pressure. Two years later the accolades are rolling in.
The Star Tribune named Jorge Guzman Best Chef of 2015, while award-winning local food critic Dara Moskowitz Grumdahl gave The Brewer's table a glowing review a couple months back. Now, Food & Wine Magazine has named The Brewer's Table among the top ten restaurants in the country. That's right….the entire country!
The Chef & Brewer Pairing Menu consists of four courses including beer and will run you $70, not bad for a fine dining experience. The menu changes regularly, but if you see octopus be sure to order it. It was fabulous when this writer paid a visit.
Jorge is also competing in the national COCHON555 competition (June 18th in Snomass Village, CO) after he was awarded the title Prince of Porc (winner of regionals) back in February. The goal at the national event is to use a whole heritage breed hog (head-to-tail) and win over the judges by serving a selection of the dishes that won at regionals.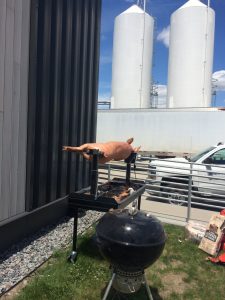 If you'd like to check out the Brewer's Table you can make your reservation here.
Cheers!