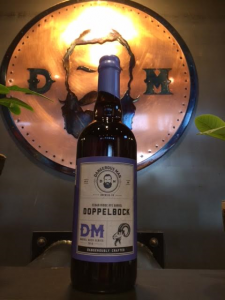 The holidays are right around the corner and we've got some gift ideas for you over here at MNBeer. With so many choices it can seem a bit overwhelming at times. That's why we've got you covered.
Surly Brewer's Table Gift Card – The accolades keep piling up for the Jorge Guzman run fine dining restaurant located upstairs at the Surly destination brewery. The food is phenomenal and the way they pair it with the beer is unlike any other experience in town. This is why Food and Wine Magazine named it one of the top 10 Restaurants of the Year and they were not alone. Dara Moskowitz-Grumdahl also gave it high praise in her piece for Minneapolis St. Paul Magazine last spring. The gift card is available from $25 -$150.
Minnesota Craft Brewer's Guild Ticket Pack – With over 100 brewery members, the guild is stronger than ever and the brewers often bring their best beers to these events. Winterfest is going to be at a new location this year (Target Field Legends Club) while the picturesque Bayfront Park in Duluth plays host to All Pints North in the summer. Autumn Brew Review serves as the finale and is held at the Grain Belt Brewery Complex in Northeast Minneapolis. If you have someone who loves local beer, this is the perfect gift pack ($300 includes 2 tickets to each event) for them.
Northern Lights Rare Beer Fest Tickets – What sets this beer fest apart from the others is that it features 30 breweries from here and around the country, and they bring beers that you may never see on local store shelves or on tap at the local breweries. The focus is on rare beers in an intimate setting with fantastic food included in the ticket price of $100. The Minnesota History Center is the perfect fit for this upscale event.
Hoodie and a Hat from Sociable Cider Werks – For $45 this is a great stocking stuffer. You choose a hat and a hooded sweatshirt, perfect for the cold Minnesota winter. Sociable Cider Werks specializes in apple graffes and their taproom is great place to check out music on the weekend and the fire pit is a great hangout on cold nights in the Twin Cities.
Crowlers from Dangerous Man, Bauhuas, Junkyard, Sisyphus, Sociable Cider Werks, and Modist – Let's face it, beer is an affordable luxury and it makes the perfect gift. Stop in at any of these breweries and pick up a few crowlers. These 750 ml (size of a bottle of wine) cans of beer are perfect for the holiday dinner table or out back by the fire pit. They usually run anywhere from $7 – $10 each and are a great way to try beers from multiple breweries around town.
Dangerous Man Barrel-Aged Bombers – You know that delicious Peanut Butter Porter made by Dangerous Man in the Sheridan neighborhood? Yeah, they put that in Port wine barrels and aged it for months—and they'll be releasing it on Saturday at the taproom. It's gonna go very fast along with the Dopplebock (one of the best beers crafted by them) they aged in cedar rye whiskey barrels. The sale kicks off at noon and the bottles are priced at $20 each. Be sure to get there early if you want to pick these up. There will certainly be a line.