In case you live under a rock, the Minnesota State Fair starts today in St. Paul. Years ago, I had an office on Energy Park Drive and always cringed as the Fair approached. We usually had a flood of last minute creative and print work for a few big clients and the traffic always sucked. I've never understood why people choose to travel to or from the fair during rush hour. You're smarter than that people!
Thirsty? Here are a few suggestions.
Land of 10,000 Beers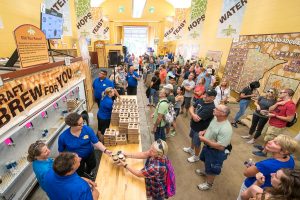 The Land of 10,000 Beer exhibit, courtesy of the Minnesota Craft Brewers Guild returns to the Ag/Horticulture Building for a 6th year with 300 beers from nearly 70 Minnesota breweries and brewpubs. Try all 300! Or maybe not. This year they've revamped the flight categories to align more-closely with Brewers Association beer categories: Crisp and Clean, Malty and Sweet, Dark and Roasty, Hoppy and Bitter and Fruity, and Spicy Tart and Funky. Our friends at Better Beer Society are also curating a "Blue Ribbon Flight" with hand-selected flights from our favorite nerds, BBS' certified cicerones.
New this year is a refreshed rotation of beer flight categories that align with the Brewers Association of beer categories: visitors to the exhibit can select among different flights of beers — Crisp and Clean, Malty and Sweet, Dark and Roasty, Hoppy and Bitter and Fruity, Spicy Tart and Funky. Also new, the Guild's partner, the Better Beer Society (BBS), is curating the "Better Beer Society Blue Ribbon Flight" comprised of beers selected by BBS' certified cicerones.
In addition to the beer, the Guild offers daily education programs at 3 and 6pm on weekdays and noon, 3pm and 6pm on weekends.  And if you want to step up your edumacation, BBS' cicerones will also be conducting Fair food and beer pairing ideas.
Ballpark Cafe
This is a required stop in my book. The Ballpark Cafe has been slinging good beer longer than some of you have even cared. Along with some State Fair classics like Summit Oktoberfest, Lift Bridge Mini Donut and Steel Toe Size 7, the Ballpark Cafe also offers up a variety of beers from Bauhaus, Bent Brewstillery, Bent Paddle, Castle Danger, EastLake, Excelsior, Hoops Brewing, Indeed, Modist and Surly. You can also check out some ciders from Sweetland Orchard and an IPA from War Pigs (3 Floyds, Mikkeller).
Other Beers to Seek Out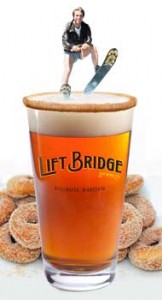 Insight Duke of Cuke – Insight's light lager infused with cucumber. (Lulu's Public House)
Barley John's Pickle Beer – Dry-hopped with fresh dill, horseradish and spices. Garnished with a dill pickle and havarti dill cheese. (Giggles)
Mini Donut Beer from Lift Bridge – this State Fair classic is a real treat. We've often joked that State Fair beers occasionally "jump the shark," and this was the first. We really only need one of these per year, but still can't help but enjoying it. (Ballpark Cafe)
Freehouse Caramel Apple π  -It's like a little shot of apple pie. Much like Fair food, once a year is enough… but you may as well enjoy it while it's there. (Blue Barn)
 Bad Weather Lemon Sunshine – a Limoncello-inspired ale brewed with lemons and lemon zest. (Mancini's)
Summit Lazy Slipper – a Kolsch style beer brewed with ingredients sourced in Minnesota.  (Shanghaied Henri's)
Follow this link for a list of all of the State Fair specialty beverages. Enjoy!